Copper CUPHC
CUPHC : alloy
CuPHC is an oxygen-free copper alloy with residual phosphorus.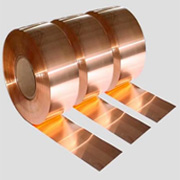 Cu PHC standards
At the international level, the standards are different and Cu PHC is designated in different ways:
France (AFNOR): Cu-PHC
Germany (DIN): SE-Cu58
Europe (EN): CW020A
ASTM : C10300
Use of the CUPHC
CuPHC copper is used for electrical equipment, tubes, metal and glass seals, as well as for applications requiring welding in a reducing atmosphere.
Consult the technical sheet for copper Cu PHC
Hot deformability
Good
Cold deformability
Excellent
Cold reduction before annealing
95% max

Machinability (Basic reference: brass from

bar turning CuZn39Pb2 =100)

20
Soft soldering
Excellent
Hard soldering
Excellent
Arc welding in a gaseous atmosphere
Good
Arc welding with coated wire electrode
Not recommended
Electric resistance welding :
Per point
Not recommended
Placed end to end
Good
Corrosion resistance :
Acetic acids
Good
Hydrochloric acid
Medium
Sea water
Good
60% sulphuric acid
Medium
Acidic waters
Good
Chemical composition in %
Physical characteristics (at 20°C)
Cu + Ag
> 99.95
Density (kg/dm3)
8.9
Pb
0.005 max
Electrical conductivity (%IACS)
>100
Total other impurities
0.03 max
Electrical resistivity (MS/m)
<1.72
Thermal conductivity (W/m.K)
394
Modulus of elasticity (Kn/mm²)
120
Coef. of thermal expansion (10-6/K)
16.8
Melting temperature (°C)
1083
Shear modulus (kN/mm²)
45
Supplier of copper CuPHC
Metal Rolling offers to order CuPHC copper only in sufficient quantities for your needs. In this way you can order your actual requirements for the production of your parts and thus avoid unnecessary stocks. We offer you a tailor-made product; you choose the thickness, length, width and hardness of your CuPHC.
Contact us for a quotation or to place your order for CuPHC.
Autres alliages de cuivre disponibles : CuETP - CuDHP - CuDLP - CuOF - CUZN10 - CUZN30 - CUZN33 - CUZN36 - CUZN37 - Maillechort