Copper CuDLP
CuDLP also known as CuB2
CuDLP or CuB2 is a copper alloy with excellent mechanical properties and good electrical and thermal conductivity. It has good solderability. CuDLP is a low-alloyed copper (Cu 99.9%, P 0.005-0.012%) for the manufacture of machined parts. Cu DLP is used in the aerospace and mechanical industries.
The production of this phosphor makes it oxygen-free and therefore insensitive to reducing atmospheres. Highly ductile and malleable, it is particularly suitable for stamping and boilermaking work. It also has good electrical (90% IACS) and thermal conductivity. It is non-magnetic and non-sparking which makes it a material of choice for parts in explosive environments (explosion-proof tools, crane rollers, etc.).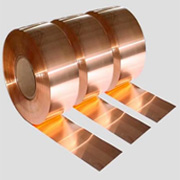 Field of application of CuDLP
CUDLP copper is used for electrical applications (strips for cables, busbars = interconnection bar, leadframe...), industrial applications (welded tubes, apparatus construction, heat exchangers, radiators...).
Hot deformability
Good
Cold deformability
Excellent
Cold reduction before annealing
95% max

Machinability (Basic reference: brass from

bar turning CuZn39Pb2 =100)

20
Soft soldering
Excellent
Hard soldering
Excellent
Arc welding in a gaseous atmosphere
Good
Arc welding with coated wire electrode
Not recommended
Electric resistance welding :
Per point
Not recommended
Placed end to end
Good
Corrosion resistance :
Acetic acids
Good
Hydrochloric acid
Medium
Sea water
Good
60% sulphuric acid
Medium
Acidic waters
Good
Chemical composition in %
Physical characteristics (at 20°C)
Cu + Ag
> 99.90
Density (kg/dm3)
8.9
P
0.005 - 0.013
Electrical conductivity (%IACS)
92
Pb
0.005 max
Electrical resistivity (MS/m)
1.89
Total other impurities
0.005 max
Thermal conductivity (W/m.K)
380
Modulus of elasticity (Kn/mm²)
120
Coef. of thermal expansion (10-6/K)
16.8
Melting temperature (°C)
1083
Shear modulus (kN/mm²)
45
International Cu DLP standards
At the international level, the standards are different and CuDLP has several designations:
France (AFNOR): CuB2 / Cu-DLP
Germany (DIN): SW-Cu
Europe (EN): CW023A
ASTM : C12000
Refer to the detailed technical data sheet for Cu DLP copper
Copper supplier CuDLP / CuB2 / C12000 / CW023A
Your metal supplier, Metal Rolling Services, offers to order copper CuB2 or CuDLP according to your real needs. You benefit from a copper that is tailor-made in terms of the width, thickness, length, width and hardness of the desired product.
Contact us for a quotation or to place your order for CuDLP.
Our other copper alloys
We also offer the following other copper alloys in sufficient quantities according to your requirements:
CuOF ou Cuc1 - CuETP - CuDHP - CuPHC - CUZN10 - CUZN30 - CUZN33 - CUZN36 - CUZN37 - Maillechort